'Hennessy Declassified' exhibition unveils secrets of the legendary cognac
Hennessy, a cognac brand from Moët Hennessy, has unveiled the secret behind its legendary product by organizing a four-day exhibition from Oct. 30 to Nov. 2 at the first floor of Pacific Place Mall in South Jakarta.
The "Hennessy Declassified" educative exhibition comprises five rooms that explain the process Hennessy uses to craft its cognac from the beginning until the finished product.
The first room, A Walk in Cognac, is adorned with balloons at the center symbolizing grapes in their vineyard. Visitors will get to discover the harvesting process of Ugni Blanc grapes, a type of grape suited to the brand, through wall-mounted giant screens.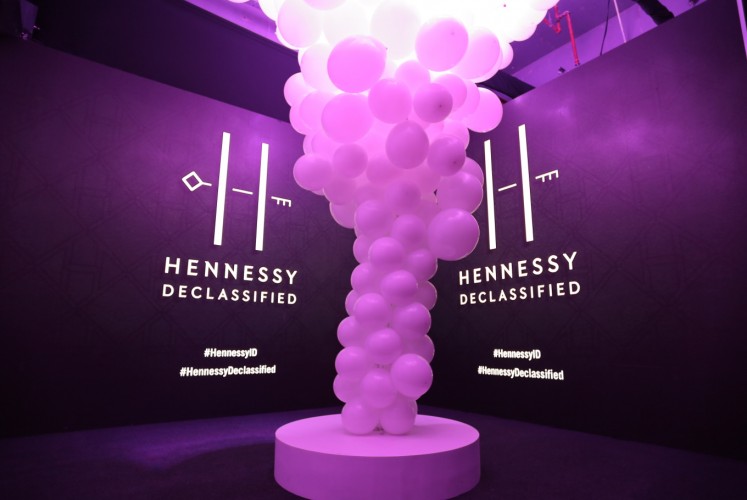 The first of five rooms at the Hennessy Declassified exhibition. (Hennessy/File)
In the second room, named the Distillation Room, there are explanations about the brand's double distillation process to create eaux-de-vie (water of life), the result of a double fermentation of the grapes as the base for cognac. A bottle of Hennessy cognac is said to consist of over 60 different eaux-de-vie.
The next room, In The Heart of Hennessy, has a replica of the brand's handmade wooden casks. The original casks are made of more than 100 year old oak without using glue or nails. The eaux-de-vie will be kept and let to mature in the cask for a minimum of two years. The contact between the eaux-de-vie and the cask will give a golden, copper tone to the product as well. Each cask is identified with chalk hand-written labels by calligraphers who have been trained to give the same style.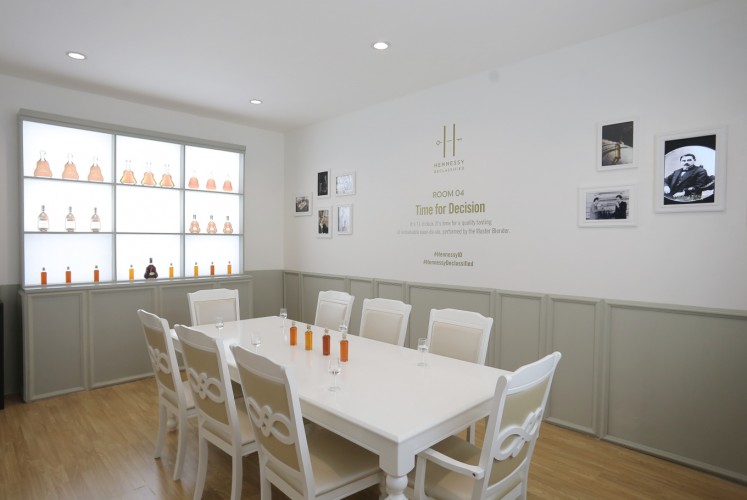 A replica of the room where Hennessy's Tasting Committee and master blend gather daily at 11 a.m. sharp. (Hennessy/File)
In the Time for Decision room, visitors enter a replica of a room where the brand's Tasting Committee and Master Blender gather at 11 a.m. sharp daily to taste, rate and record the eaux-de vie. The brand has worked with the master blender from the Fillioux family to constantly preserve its taste. A seventh generation master blender, Yann Fillioux, was recruited by Hennessy at the age of 17 and will pass the legacy to his nephew, Renaud Fillioux de Gironde.
"It's done at 11 a.m. when their palate is still clean, not contaminated by other flavors," said Andrianto Surohadikusumo, brand manager of Moët Hennessy Asia Pacific, during the opening of the exhibition on Tuesday at Pacific Place, South Jakarta.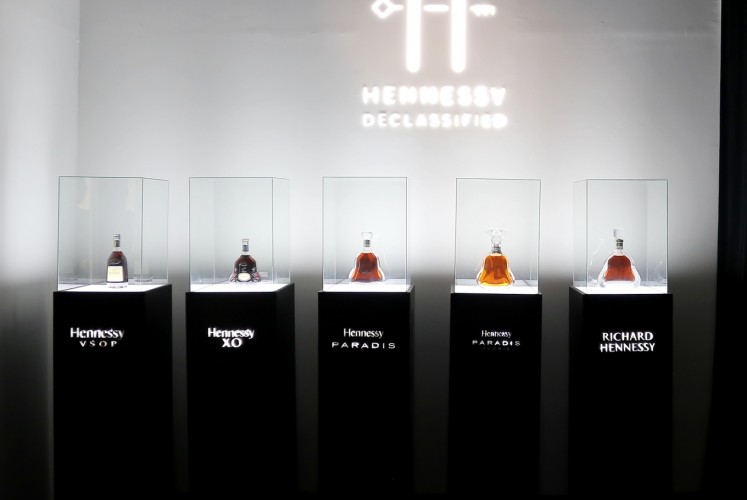 Five Hennessy cognacs that are displayed at Hennessy Declassified exhibition on Tuesday, October 20, 2018 at Pacific Place Mall, South Jakarta. (Hennessy/File)
The last room, Hennessy Collection, showcases five Hennessy cognacs, namely VSOP Privilège, X.O, Paradis, Paradis Impérial and Richard Hennessy.
The exhibition aims to educate people about the brand. "Many people only know that Hennessy is very private and sometimes they're confused between cognac and whiskey," said Andrianto. "Hopefully people will get informed about and be fond of Hennessy."
Andrianto also explained that cognac could be savored in different ways. "We can pair it with foods or mix it into cocktails – it's okay as long as you can enjoy it," Andrianto said. "The simpler one might be adding ginger ale and lime." (kes)