Dutch chefs train vocational school students in Malang
There was a strong aroma of warm cakes coming from a classroom where a brunette woman was teaching a class how to make biscuits and tartlets.
The classroom was a kitchen studio at SMK 2 vocational school in Malang, East Java, where Netherlands-based chefs Maartje Hogenes and Pipiet Fardiman were guest teachers. On Oct. 28, the chefs shared insights on how to cook European cuisine according to good standards with five-star presentation.
Maartje and Pipiet are teachers from MBO College Centrum ROC in Amsterdam, the Netherlands. They are on a world culinary tour to promote traditional Indonesian food, and they have spent a week teaching at vocational schools in Malang and Sidoarjo, East Java.
Pipiet was born in Bandung, West Java, but she and her family moved to the Netherlands in the late 1980s. A graduate of ROC Hotel School in Amsterdam, Pipiet has a culinary career that spans nearly 30 years, according to her website.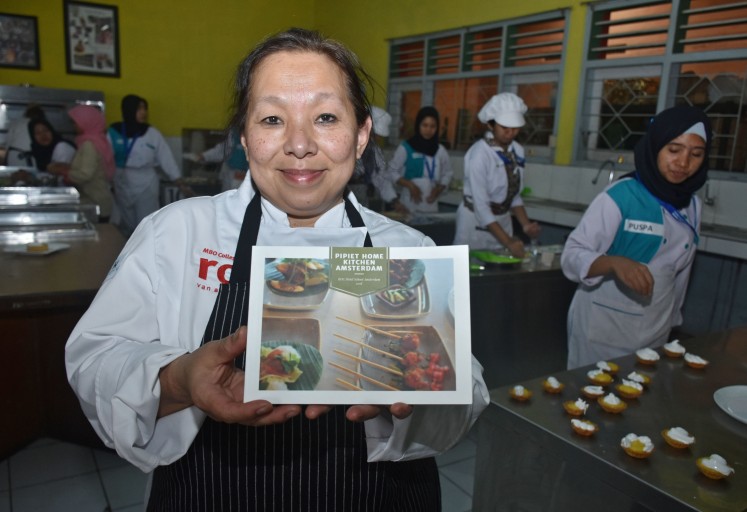 Chef Pipiet Fardiman from Amsterdam's MBO College Centrum ROC shows a food catalog she created. (JP/Aman Rochman)
Pipiet has also toured the globe to cook and conduct classes, including in Wakayama, Japan.
Meanwhile, for chef Maartje it was her first visit to vocational schools in East Java, where she taught about good hygiene as a crucial part of producing healthy, delicious and well-presented dishes.
Chef Pipiet told The Jakarta Post that apart from Indonesian food being popular in Holland, there had also been a growing demand for halal food. She also highlights that jengkol (dogfruit) was a common item found in restaurants in Holland.
"Don't get me wrong, but jengkol is a known item in Holland. [Jengkol-based dishes are] presented neatly according to five-star hotel standard," said Pipiet.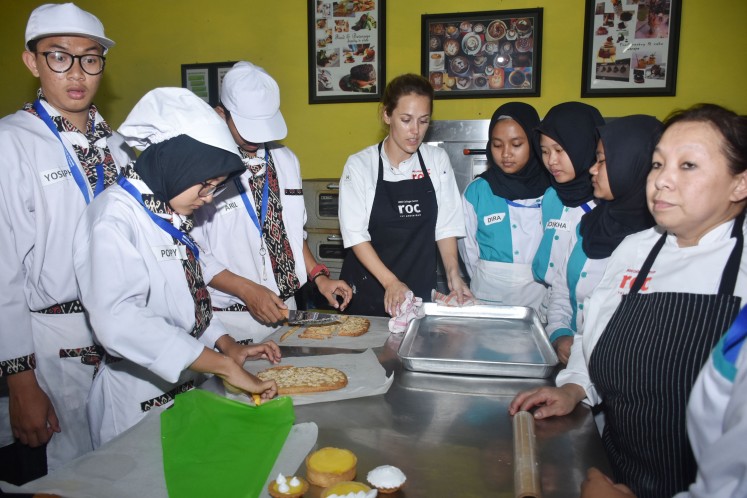 SMK 2 Malang vocational school welcomes chefs Maartje Hogenes and Pipiet Fardiman as guest lecturers. (JP/Aman Rochman)
Lidya Ayu, a sophomore at SMK 2, said attending the class with chefs Maartje and Pipiet was a valuable experience. She said that she had learned a lot about cleanliness and cooking preparations.
"The most important thing is that we've become more enthusiastic about exploring traditional food and pastries using the [higher] standards that they taught us," said Lidya. (mut)